Structure and Activities
SEFALer Activities operative from CIBERER: Phase II
Phase II Activities:
Characterisation of animal models of human rare diseases. 

Secondary functional phenotyping in the following contexts: 

Platforms for phenotyping transgenic mice.
Pharmacology and toxicology.
Degeneration and regeneration studies.
Ageing studies.
Characterisation of experimental models forming part of behavioural, surgical studies, etc. Phenotypic selection of reproducers for stabling.

Morphological phenotyping.

CIBERER database: models available, genic expression and phenotype.
Technical-scientific advice.
Training.
---
Groups involved
---
How this is structured and possibilities for further collaboration
SEFALer units: The SEFALer platform is a pioneering network structure seeking to provide a comprehensive service in all phases of phenotyping animal models of rare diseases. It is structured through cooperation between services provided by CIBERER groups through different institutions. To enable the initial node, the CIBERER has signed an agreement with the Consejo Superior de Investigaciones Científicas (CSIC) to facilitate the integration of the Instituto de Investigaciones Biomédicas "Alberto Sols" -- CIBERER Unit U761.
SEFALer is open to being joined by new groups from other public and private institutions which can offer their technology and experience in phenotyping laboratory animals. Each of these would constitute a unit inside the SEFALer, specialising in the characterisation of a specific area. How can one cooperate?
Each of these units will provide phenotyping, advisory services or both, in line with their possibilities and availability.
The organisation in SEFALer Units of the platform will be coordinated from the CIBERER office. The scientific and teaching work of the SEFALer serán gestionadas por un coordinador en contacto permanente y supervisadas por un Comité SEFALerUnits will be managed by a coordinator in permanent contact and supervised by a SEFALer.Committee made up of researcher members of the CIBERER. The administrative and logistics management for the platform to operate will be handled by the SEFALer coordinator
These new collaborators must either be CIBERER groups or private companies.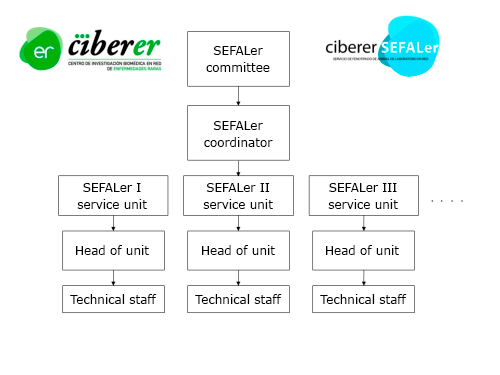 Groups involved